Oxley Recreation Reserve is located on the Oxley/Meadow Creek Road, 3.5kms south of Oxley. This Reserve is Crown Land and is run by a Committee of Management (who are all volunteers).
The Oxley Reserve was formed in 1865 and is a unique 47 hectare mix of bush land and cleared areas, backing onto the King River. The upper terrace (10 hectares) is where the majority of facilities are located. This area has sandy well drained soil and is usable all year round. The lower area is flood plain and access may be restricted depending on conditions.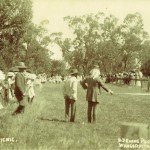 In the early 1900s the annual Oxley Picnic Day would attract around 3,000 people from all over Victoria who would camp the weekend and partake in tennis, foot races, gymkhana events and games. The Reserve is still used regularly for recreational purposes today.
Please click on a link below for more information regarding hire of the facilities and grounds.