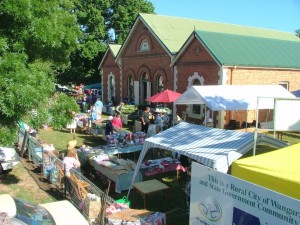 The 39th Annual Oxley Bush Market will be held this year on Saturday 3 November 2018. Staged at the historic Oxley Shire Hall (1875), the market is timed to coincide with the Wangaratta Festival of Jazz and Blues.
Thousands of visitors flock to Oxley for this annual event and wander among the 175 stalls boasting a variety of home-made, home-produced, home-grown and new items. The event attracts stallholders from throughout the North East, as well as all corners of Victoria and southern New South Wales. Over and above the enormous range of high quality goods on sale, visitors will be delighted by the variety of gourmet food on offer, the buskers, the rides and just the sheer activity and vibrancy of the event.
---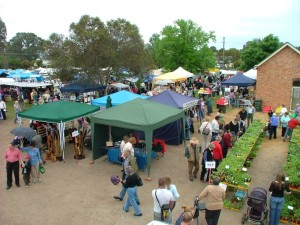 The market also has a fantastic raffle with over 30 prizes donated by local businesses from Wangaratta, the Milawa Gourmet and King Valley regions, ranging from accommodation vouchers to food and wine hampers. Please come along to the market and help support our local community by buying a ticket. Money raised recently has helped us to install playground and picnic facilities at the Oxley Memorial Park.
The Oxley market is valued for the contribution it makes to many local fundraising groups, including schools, kindergartens, service clubs, fire brigades, the Cancer Council and the Royal Children's Hospital Auxiliary.
---
PLEASE READ THE INFORMATION BELOW BEFORE COMPLETING YOUR APPLICATION FORM
Oxley Bush Market Information and Application Form 2018 Word Document
Oxley Bush Market Information and Application Form 2018 PDF

GENERAL INFORMATION
 Stall positions will be allocated by the organising committee. A plan of the stall layout will be available from 6.30am on the morning of the Market. Prior entry to the site is prohibited and no stalls may be set up before this time.
 All saleable goods must be home-grown, hand-made, home-produced or new items, and must be of a high quality. NO trash, treasure or used items are permitted.
 HEALTH REGULATIONS FOR ANY FOOD, EDIBLE ITEMS, ETC
Organisations and private individuals who wish to market these items should contact the Rural City of Wangaratta (03) 57220888 for current information about the regulations.
 PUBLIC LIABILITY INSURANCE Please bring a copy of the paperwork with you to the Market– do not post it with your application.
 The Oxley Bush Market goes ahead regardless of the weather conditions.
 NO DOGS are permitted at the Market – except Guide dogs
 Smoking is not permitted within the Hall grounds.
SITES
 A limited number of stall spaces are available inside the hall. Inside spaces may be irregularly shaped. They are allocated according to the suitability of the product marketed.
 Vehicles should be removed from the site if possible due to the limited area available. If this is not possible then the vehicle must be parked within the stall space or another space must be paid for.
 For safety reasons, no vehicle movement in hall grounds is permitted until the Market finishes at 3pm and stalls MUST NOT be packed up before this time.
COST
Single stall – 4m long x 3m deep – $66.00 (incl.GST)
Double stall – 8m long x 3m deep – $155.00 (incl. GST)
Triple stall (maximum allowable) – 12m long x 3m deep – $300.00 (incl. GST)
Powered sites (limited number) – you must have approved, tagged leads – $25.00 per site EXTRA
APPLICATION PROCESS – APPLICATIONS CLOSE Thursday September 13
 Your application can not be considered unless we receive
1. YOUR COMPLETED APPLICATION FORM;
2. FULL PAYMENT
3. STAMPED, SELF-ADDRESSED ENVELOPE
 We are restricted by space to 175 sites. The Oxley Bush Market Committee is keen to ensure the widest possible variety of goods on sale. All applications returned by the due date will be considered by the Committee.
 You will be notified if you have been successful in gaining a site by September 25, 2018.
 If you have been unsuccessful, your payment will be returned in full by September 25, 2018.
 There are no refunds for cancellations after September 25, 2018
TO APPLY PLEASE RETURN:
1. APPLICATION FORM
Oxley Bush Market Information and Application Form 2018 Word Document
Oxley Bush Market Information and Application Form 2018 PDF
2.PAYMENT-Cheque/moneyordermadepayabletotheOxleyBushMarket OR – by direct payment to the following bank account
Account Name: Oxley Bush Market Account
Bank: Westpac
BSB: 033 260
Account No: 387687
Reference: Please must make sure that your account name/business name on the payment screen matches the name on your application form so that the stall applications can be accurately identified.
3. A STAMPED, SELF-ADDRESSED ENVELOPE to: Oxley Bush Market Committee
PO Box 219 Oxley VIC 3678
A CLEAN and GREEN EVENT
We are continuing to ask our stall holders and shoppers to 'Reduce, Reuse and Recycle'. We have halved our overall waste volume since we started our clean and green event campaign in 2006. We hope to continue to improve these figures this year, so please help us where you can.
How can you help as a stall holder?
 Reduce your use of packaging for your products and make sure that ALL packaging is recyclable. When asking for plastic containers or cups make sure they have a recycle symbol with a Code 1 to 7 on the bottom of the product, as this means it is recyclable.
 Encourage shoppers to use reusable bags and baskets, provide paper bags or boxes as alternatives and pack goods with other market purchases. Always ask 'do you need a bag?' before providing one as a last resort.
Suggested Packaging Suppliers
Fletchers Supplies
105 Tone Rd, Wangaratta VIC 03 5722 1470
Essential Utensil
429 Wilson Street, Albury NSW 02 6021 8455
Lombard the Paper People See www.lombard.com.au
Pakstat
Corner Kiewa and Hume St, Albury NSW 02 6041 2700
Wangaratta Packaging
143 Vincent Rd, Wangaratta VIC 03 5721 4879
Exflo Hospitality Supplies 919 Metry St, Albury NSW 02 6025 6200
Oxley Bush Market Account Westpac
033260
387687
Your account name/business name
Stallholder Application Form
39th Annual Oxley Bush Market – November 3rd 2018
Name
Organisation (if applicable)
Street address Suburb
Phone
Email
Please complete stall details and tick appropriate boxes I intend to sell
Postcode
Mobile
Site -Cost includes GST
Location preference
Power required?
Do you have public liability insurance
Triple ($300) Outside
Single ($66)
Inside (limited number available)
Yes ($25 site)
No
No
Yes
Double ($155)
Limits apply to number and type of electrical appliances – due to the age of the building.
Please list your appliances below Total stall cost $
Cheque or money order – made payable to the Oxley Bush Market Direct deposit – the details of direct deposit are:
Your Bank
Deposit date
Your Account Name
Any special requests may be written below:
As a stallholder at the 2018 Oxley Bush Market, I support this clean and green event and will make every effort to reduce the waste by recycling or using recycled material at my stall. I agree to abide with all rules and regulations set out by the Oxley Bush Market Committee in the 2018 Information Form.
SIGNED……………………………………………
………………………………DATE………………………………………….
Your application must include a stamped, self-addressed envelope or it will not be considered.
CLOSING DATE for APPLICATIONS THURSDAY SEPTEMBER 13th 2018
rket and for supporting an event which helps our local community.